Getting the Most out of Your Blade MSR – an Ebook Review
This is a review of "Getting the Most out of Your Blade mSR & 120SR". An Ebook by John Salt.
I heard a lot of great things about this ebook, so I decided to purchase a copy for myself. Since I have a copy now, I figured it was my duty to provide a review for the readers of micro-helicopters.net.
This Ebook is full of tips and advice on how to… well… get the most out of a blade MSR. You'll notice that the title of the Ebook is actually "Getting the Most out of Your Blade mSR & 120SR". It wasn't always that way but John decided to release a product about the 120SR. Since these two helicopters are so similar, he just took the MSR Ebook and tacked on the 120SR information rather than making a separate book. That's good news for me because I'm basically getting two books for the price of one. If I ever decide to try the 120SR, I already have the book.
It is kind of obvious that the 120SR information was just an afterthought though. The book primarily talks about the MSR but where applicable  it will add, "for the 120SR…". For the purposes of this review though, we'll just talk about the MSR.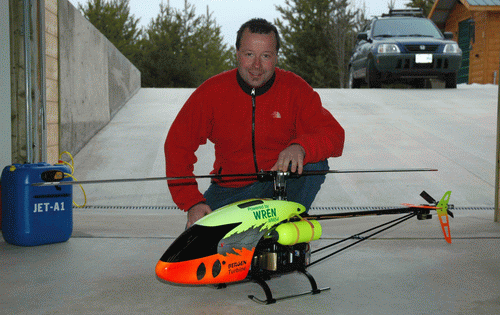 This is the only Ebook that I'm aware of that is specifically written about the Blade MSR. It's written by John Salt (that's him on the right) who is an RC Helicopter addict just like the rest of us. John owns and flys the MSR so the book is full of practical advice from his own first hand experience. He's passionate about RC helicopters which really comes through in this book.
Who is it for?
This Ebook is for two kinds of people.
Those who own the MSR and want take advantage of what it has to offer.
Those who are considering buying an MSR and want to know what it is capable of.
The book is a meaty 79 pages full of useful information. It includes enough pictures to illustrate points but not so many that they just act as filler.  It would take a long time to find all of this information in forums but it is all presented here in a way that is easy to read and implement.
What Will You Learn?
The greatest weakness of the MSR. John exposes the biggest vulnerability of the MSR and then explains how to fix it. This includes very specific instructions complete with pictures on exactly how to fix this problem on your MSR
Computerized radio setup. One of the main advantages of the MSR is that it uses a DSM2 transmitter. That means you can use a computerized radio transmitter with this micro helicopter. This is one of my favorite parts of the book where John explains all about setting up a computerized radio such as the Spektrum DX6i for use with the MSR. I didn't realize to what extent you can customize the behavior of your MSR until I read this book. Page 14 to page 39 is full of practical advice on setting up the transmitter. You'll learn how to set the radio up to make the MSR super easy to fly or as challenging as you would ever want and everything in between. John describes things like basic initial setup, throttle curves, dual rates and exponential, negative cyclic exponential, mixing, and the mysterious 5th channel. If you don't know what any of those are then you really ought to get this book. He even gives exact values for various settings depending on how you want your helicopter to fly. You can start with these and use what John teaches to tweak things as you go.
How to setup your MSR to mimic a collective pitch helicopter. I thought this was a pretty cool section where John describes how to setup your MSR to mimic the characteristics of a collective pitch helicopter. It only works for hovering but it's a neat idea for practicing collective pitch hovering.
The most likely cause for TBE (Toilet Bowl Effect). And of course he also shows you exactly how to eliminate it with a very simple adjustment.
1 tip to make it "almost impossible to damage your MSR". According to John, this simple tip will virtually eliminate damage to your MSR. In his own words "I can almost guarantee you will seldom be purchasing replacement parts for your mSR"
A recommended modification. One thing you'll realize is that John isn't big on modifying the MSR. However, there is one modification that he believes can be beneficial. You'll learn what that modification is and how to do it properly.
Maintenance instructions. John provides 12 pages on MSR maintenance. There are a few things that you need to do to keep your MSR running in top condition and that's part of what this section describes.  This section also shows you how to put things back together after a crash. If you follow John's tip above, you shouldn't break any parts but things may come apart in a crash. John shows exactly how to put your helicopter back together properly if this happens.
Improvements and Upgrades. From Page 57 to 67 John offers some tips on how to improve and upgrade your MSR. Some of these tips can even eliminate the need for a few of the maintenance procedures described in the maintenance section.
Why the author thinks the swashplate calibration tool is a "waste of plastic". John says that the swashplate calibration tool is a "waste of plastic". He explains why that is and shows you the proper way to setup your swashplate.
A Couple things I Disagreed With
There were a couple things that I disagreed with in this ebook. One of those is his stance on Aluminum upgrades. John strongly advises against aluminum upgrades. I agree with his concerns about weight and his statements about micro helicopter design being about compromise between weight, performance, cost etc. However, in my opinion, the perfect compromise is different for everyone and there is no one size fits all solution which is exactly what E-Flight and other manufacturers have to create when they design a product for mass production. For these reasons I think Aluminum upgrades are worth considering. You just need to understand the trade offs you are making and be willing to experiment and not go overboard. The second thing I disagreed with was the battery recommendations. Well, I didn't really disagree with them. I just think they are a little outdated. While the batteries he recommends are cheap and decent, they just don't compare to the modern technologies that offer far superior charge rates like the ones I recommend in my Blade MSR Battery post. Those batteries are a little more expensive but will last much longer.
What I Disliked
I liked almost everything about this book but there were a couple of things that I was disappointed in. First of all, the book has not been professionally formatted. I don't know what I was expecting in terms of presentation but it's not really fancy looking. There was also some typos and words misspelled throughout the book which is a pet peeve of mine. This doesn't really detract from the value that the book offers though and there is something to be said for the informal conversational tone of the book. It's not like reading a text book but more like he's talking to you. The other thing I thought could be improved was the organization of the book. Sometimes I felt like I was missing the background to understand what he was talking about but later realized that background was covered later on in the book. For example, in the Dual Rates & Exponential section he starts talking about the settings before describing what exponential even is. He does try to give you a heads up when this happens though like in the example I just gave he writes "I have an explanation for Exponential in Chapter 5". It would be nice to have some bookmarks and hyperlinks in there so I wouldn't have to scroll back and forth in the document all the time.
Conclusion
Despite the few shortcomings I talked about, I really enjoyed this book.  It is a reference that I will keep referring back to over time. I think the two most valuable parts of the book are the maintenance section and the computerized radio section. When you fly RC Helicopters you spend a significant amount of time on the bench fixing your bird and making it fly properly. This usually also involves a lot of forum research and trial and error to keep your helicopter running properly. John lays all this information out in the maintenance section so you can quickly look up your problem and fix it right away. And with the computerized radio section you will never get bored with your MSR. There are so many ways you can customize the behavior of your MSR and John shows you exactly how to do it. If you have an MSR, you need to pick up this book. For the $8.95 price tag it is a complete no-brainer.
How do You Get It?
If you don't know what an Ebook is, this is an instant PDF download that you can view using free software like Adobe reader. It costs just $8.95 USD. He takes PayPal but if you don't have a PayPal account you can pay by debit or credit card. There is a buy now button on the sales page. When you click it, it will take you to paypal where you can log in or just enter your payment information if you don't have a payapal account. Once you finish the paypal checkout you will be given a download link to download your ebook. You will also receive the download link in an email. The paypal checkout is a secure payment method. I've used paypal hundreds of times without issue so you don't need to worry about that. And if for any reason you decide this book isn't for you, John offers a 30 day 100% money back guarantee. Click here to see what John himself has to say about it.